Healthy Kale Cobb Salad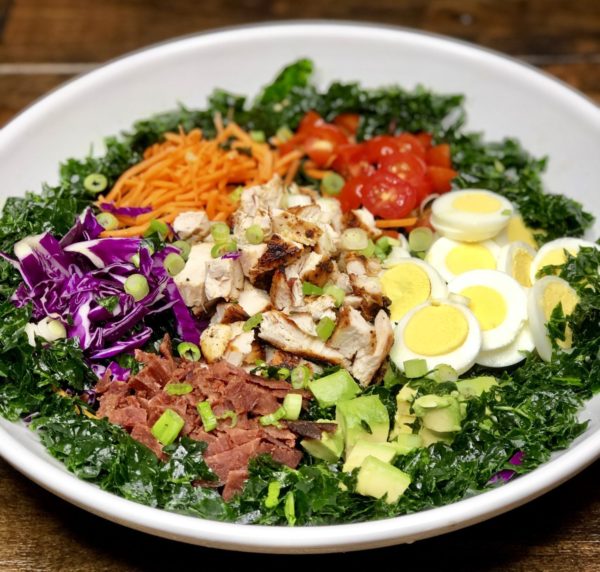 Healthy Kale Cobb Salad
Ingredients:
4 cups finely chopped lacinato kale
1 cooked chicken breast, chopped
2 hard-boiled eggs, sliced
4 slices turkey bacon, cooked and chopped
½ cup shredded carrots
½ cup shredded purple cabbage
½ cup grape tomatoes, halved
1 avocado, chopped
2 green onions, chopped (white and green parts)
1 teaspoon extra-virgin olive oil
Dressing:
1 teaspoon Dijon mustard
¼ cup red wine vinegar
½ cup extra-virgin olive oil
Salt/pepper to taste
Directions:
In a small bowl, whisk together dressing ingredients and set aside.
Add the chopped kale to a large salad bowl and drizzle teaspoon of extra-virgin olive oil over kale. Massage kale with your hands to break down, make kale softer and easier to digest.
Add all of the other salad ingredients on top of kale.
Add desired amount of dressing and to toss to coat. Depending on how lightly you like the salad dressed, you may have leftover dressing for another salad!
---