Tofu Veggie Fried Rice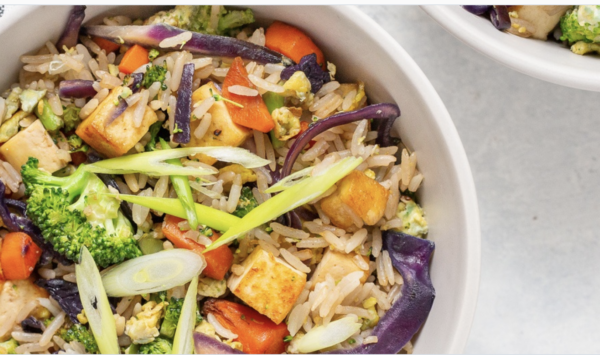 Tofu Veggie Fried Rice
Ingredients:
1 cup brown jasmine rice (uncooked)
1 1/2 tablespoons toasted sesame Oil (divided)
1 pound tofu (extra firm, drained and diced)
Pink Himalayan salt & fresh ground black Pepper (to taste, divided)
2 cups broccoli, chopped
1 cup purple cabbage, thinly sliced
1 medium carrot, diced
4 eggs, whisked
3 tablespoons tamari
3 stalks green onion, thinly sliced
Directions:
1. Cook the jasmine rice according to package directions.
2. Heat half of the sesame oil in a large non-stick pan over medium heat. Cook the tofu for about five minutes or until browned, frequently tossing. Season with salt and pepper and transfer to a bowl.
3. In the same pan, heat the remaining sesame oil over medium heat. Cook the broccoli, purple cabbage, and carrots until fork-tender, about five to seven minutes.
4. Slide the veggies to the side of the pan and add the eggs. Gently push the eggs back and forth with your spatula until scrambled and cooked through.
5. Add the rice over top of the eggs and break it up with your spatula. Add the tofu and tamari.
6. Gently stir until everything is well combined. Divide into bowls, garnish with green onions and enjoy!
Leftovers: Refrigerate in an airtight container for up to four days.
Serving Size: One serving equals approximately two cups.
No Tamari: Use soy sauce or coconut aminos instead.
Additional Toppings: Add mushrooms, or green peas.
{Rachel's Suggested Wine Pairings}
Lambrusco di Sorbara from northern Italy's Emilia-Romagna region
Off-Dry Riesling from Kamptal, Austria
Pinot Gris from Alsace, France
---