Winter Superfoods Bowls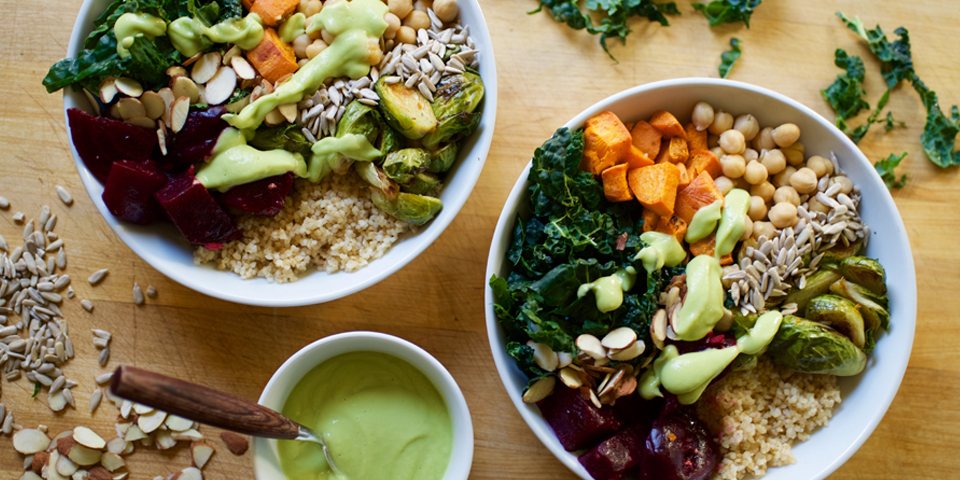 Winter Superfoods Bowls
Ingredients:
2 medium beets, peeled, cut into 1-inch cubes
2 medium sweet potatoes, cut into 1-inch cubes
4 tsp. olive oil, divided use
½ tsp. ground cumin, divided use
Sea salt (or Himalayan salt) and ground black pepper, divided use
2 cups Brussels sprouts, cut in half lengthwise
½ medium avocado, cut into chunks
¼ cup water
2 Tbsp. fresh lime juice
1 Tbsp. rice vinegar
1 clove garlic, finely chopped
1 tsp. raw honey (or maple syrup)
2 cups cooked bulgur, warm
2 cups chopped kale
1 (15-oz.) can chickpeas (garbanzo beans), drained, rinsed
¼ cup sliced almonds, toasted
¼ cup sunflower seeds
Directions:
Preheat oven to 425º F.
Place beets and sweet potato on a large baking sheet. Drizzle with ½ tsp. oil. Season with ¼ tsp. cumin, salt and pepper (if desired).
Bake for 10 to 15 minutes; stir.
Add Brussels sprouts. Drizzle with ½ tsp. oil. Bake for 20 minutes, stirring halfway through, or until vegetables are tender-crisp.
While vegetables are baking make dressing by placing avocado, water, lime juice, vinegar, remaining 3 tsp. oil, garlic, honey, remaining ¼ tsp. cumin, and salt in blender (or food processor); cover. Blend until smooth. Set aside.
Evenly divide bulgur between four serving bowls. Evenly top with kale, chickpeas, roasted vegetables, dressing, almonds, and sunflower seeds; serve immediately.
Variations:
Spinach, Swiss chard, or collard greens can be substituted for kale.
Broccoli can be substituted for Brussels sprouts.
Legumes can be substituted for beets and sweet potatoes
---