A Beginner's Guide to Meal Prepping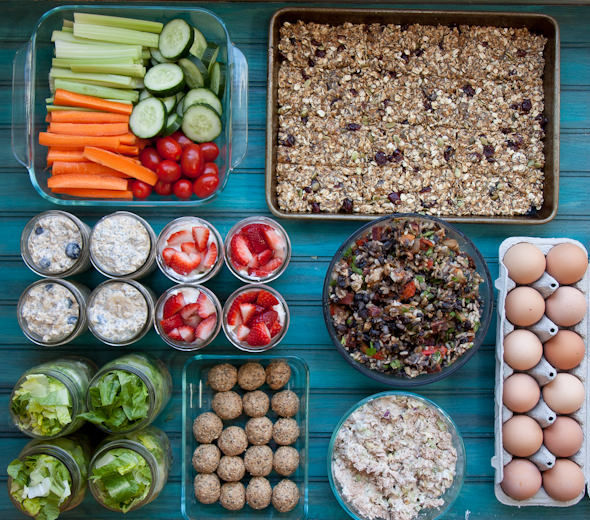 A Beginner's Guide to Meal Prepping
What is meal prepping? Why would I prep all my meals in advance? This meal-prep guide for beginners will help you get a handle on how to begin, how to choose your meals, how to make a meal-prep grocery list, and much more.
"Be prepared." It's a slogan that's stood the test of time because the relationship between looking ahead and successfully meeting one's goals is undeniable. When it comes to what you eat and how you eat, preparedness matters if you want to reach your nutrition and fitness goals.
What Is Meal Prep?
Meal prepping is preparing, cooking, or packaging food for three to four days in advance so you know exactly what and how much you are eating.
Having a healthy meal ready to enjoy can help you say no to unhealthy food choices. Tempted to go through the drive-thru on the way home to save time? No point when you've already got a delicious meal at home waiting for you. Research shows a link between the amount time of people spend on prepping food at home and the quality of their diet. What's more, meal prepping can be a great time-saver.
How to Meal Prep
Start Small
Planning ahead and prepping your meals can be a great way to make more healthy choices and avoid temptation. If you're not used to batch cooking, start with prepping one or two days' worth of meals at a time. Starting small will allow you to test one or two recipes to see how you like them and just how much of them you actually eat. You don't want to make too much food and end up wasting it.
Stock Up on Kitchen Essentials
You don't need a ton of fancy kitchen equipment to make healthy meals at home. Here are some basic kitchen tools you might find helpful if you don't have them already:
Bento-style meal-prep containers
Mason jars
Chef's knife
Measuring cups and spoons
Cutting board
Spatula
Sauté pan, small saucepan, baking sheet
Mixing bowls
Slow cooker or Instant Pot (optional)
Blender or food processor (optional)
Pick a Day to Meal Prep
I recommend starting on a Sunday or Monday. Sundays often work well since most people have a little extra time. People also tend to be more motivated to engage in healthy behaviors at the beginning of the week. Meal prep is a great way to carry that enthusiasm throughout the week with just a little effort up front.
Come Up With Meal-Prep Ideas
Planning your meals for the week doesn't have to be complicated. It might seem a little daunting at first, but it's surprising how many different meals you can make with just a limited number of ingredients.
No-fuss combinations like chicken, brown rice, and broccoli for dinner, or salmon, roasted carrots, and spinach. To add flavor without calories, stock up on herbs and spices. Once you have your meal-prep recipe list, check your pantry and fridge for ingredients, make a list, and then you can head to the store prepared.
Batch-Cook Staples to Use Later
Once you're comfortable meal prepping, preparing staples — like rice, quinoa, oats, lentils, and sweet potatoes — in bulk. You'll return to them again and again, and they can take the longest to cook. For example, make a batch of quinoa for the week!
How to Make Meal Prep Easy
Include some no-cook recipes or easy make-ahead recipes in your meal prep. Snacks and foods that don't require cooking (like salads and overnight oats) can help save time in the prep process. I use my bento- style containers to prep salads every week! Cut up veggies, hard-boiled eggs, almonds and berries are great for snacks!
When prepping, use the oven to cook several things at once. Veggies can generally roast together, and there's a reason sheet-pan dinners are becoming so popular, no muss, no fuss.
Don't shy away from the Crock-Pot or the Instant Pot. They're super time-savers — just add ingredients, set, and forget. While it's doing the work on one recipe, you have time to focus on another.
---