Rainbow Lettuce Wrap with Spicy Mango Dressing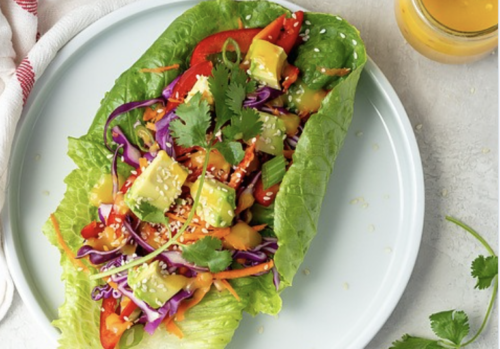 Rainbow Lettuce Wrap with Spicy Mango Dressing
Serves 4
Vegetable Ingredients:
1 1/2 cups purple cabbage, thinly sliced
1 red bell pepper, thinly sliced
1 medium carrot, shredded
2 stalks green onion, thinly sliced
1 head romaine hearts, large leaves separated, washed and dried
2 avocado, diced
2 teaspoons sesame seeds
1/4 cup cilantro
Dressing Ingredients:
1 small mango, chopped
3 tablespoons water
2 tablespoons apple cider vinegar
1 small garlic clove, minced
1/2 teaspoon red pepper flakes
1/8 tsp pink Himalayan salt
Directions:
1. In a large mixing bowl combine the cabbage, bell pepper, carrot and green onions. Toss to combine and set aside.
2. Add the mango, water, apple cider vinegar, garlic, red pepper flakes and sea salt to a food processor and blend until smooth.
3. To assemble the lettuce wraps, divide the cabbage mixture between the romaine leaves and garnish with avocado, sesame seeds, cilantro and spicy mango dressing. Serve immediately and enjoy!
Notes:
Leftovers: Refrigerate veggies, dressing and toppings in separate airtight containers for up to five days. Assemble lettuce wraps just before serving
Serving Size: One serving is approximately two lettuce wraps. Each lettuce wrap is approximately 2/3 cup veggie filling and 2 tablespoons of dressing.
Additional Toppings: For extra crunch add sliced almonds or pumpkin seeds.
More Protein: Add cooked chicken, shrimp or tofu.
{Rachel's Suggested Wine Pairings}
Off-Dry Pinot Blanc from Alsace
Gewurztraminer from Alsace
Riesling Trocken from Pfalz, Germany
---