Tahini Honey Chicken Salad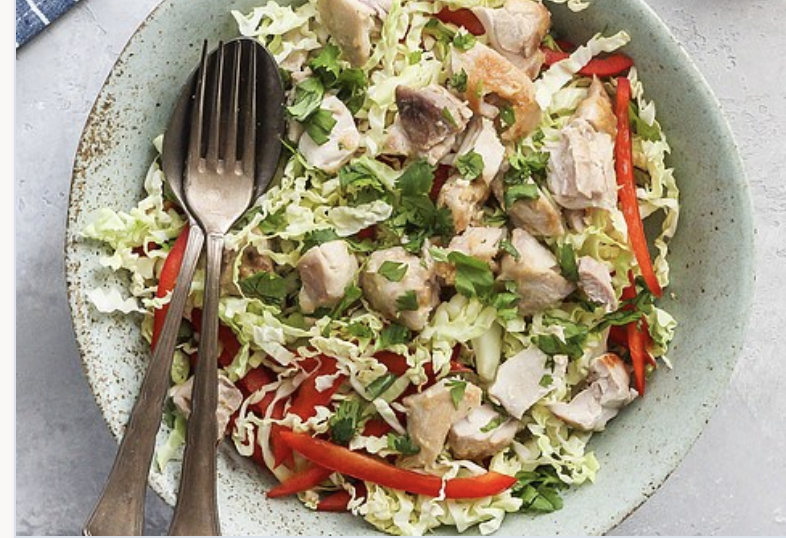 Tahini Honey Chicken Salad
Serves 4
Ingredients:
2 tablespoons tahini
1 tablespoon raw honey, divided
1 lb boneless, skinless chicken thighs
1 tablespoon extra virgin olive oil
1/8 teaspoon Pink Himalayan salt
2 tablespoons sesame oil
2 tablespoons coconut aminos
1 teaspoon fresh squeezed lime juice
4 cups green cabbage, chopped
1 red bell pepper, thinly sliced
1/4 cup cilantro, chopped
Directions:
1. Mix the tahini with half of the honey in a small bowl.
2. Rub the chicken thighs with olive oil and sea salt and heat a skillet over medium heat. Cook the chicken for 5 to 6 minutes per side or until cooked through. Brush the tahini mixture on both sides of the chicken and cook for an additional 1 minute per side. Remove and set aside. Once cool, chop into cubes.
3. Mix the sesame oil, coconut aminos, lime juice and the remaining honey together.
4. Add the cabbage and bell pepper to a large bowl and toss with the sesame oil dressing. Top with the chicken and cilantro, if using.
5. Divide evenly between bowls and enjoy!
Notes:
Leftovers: For best results, refrigerate the salad, chicken and dressing in separate containers. Refrigerate for up to three days.
Additional Toppings: Sesame seeds, slivered onions, peanuts, cashews, sunflower seeds, hemp seeds and/or pumpkin seeds.
No Coconut Aminos? Use tamari or soy sauce instead.
---