Asian Quinoa & Edamame Salad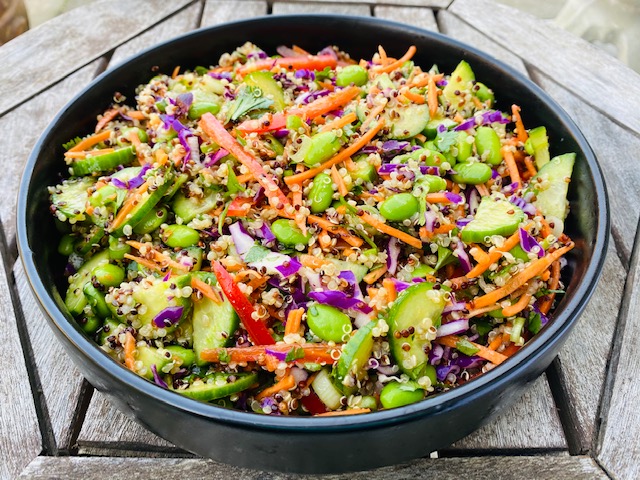 Asian Quinoa & Edamame Salad
Ingredients:
1/2 cup dry quinoa
1 cup frozen edamame
2 stalks green onion, thinly sliced
1 red bell pepper, thinly sliced
1 small Persian cucumber, sliced into half-moons (about 1 cup)
1 cup shredded purple cabbage
1 cup shredded carrots
1/2 cup cilantro, rough chopped
Dressing Ingredients:
3 tablespoons avocado oil
1 tablespoon fresh squeezed lime juice
1 tablespoon tamari
2 teaspoons toasted sesame oil
1 teaspoon maple syrup
Pink Himalayan salt and fresh ground pepper to taste
Directions:
1. Cook the quinoa according to package directions. Set aside to cool.
2. Bring a small pot of water to a boil and add the edamame. Cook for 3-4 minutes just until the edamame are cooked through. Drain and set aside to cool.
3. Add the avocado oil, lime juice, tamari, sesame oil, and maple syrup to a jar. Cover and shake well to combine.
4. In a large mixing bowl, add the cooked quinoa, edamame, green onion, red pepper, cucumber, purple cabbage, carrots, cilantro, and dressing. Stir well to combine.
5. Divide between plates and enjoy!
Notes:
Leftovers: Refrigerate in an airtight container for up to three days.
Serving Size: One serving is approximately 1 1/2 cups of salad.
More Flavor: Add garlic, ginger or hot sauce to the dressing.
More Protein: Add hard boiled eggs, grilled chicken, shrimp or tofu
No Tamari: Use coconut aminos instead.
{Rachel's Suggested Wine Pairings}
Sauvignon Blanc from New Zealand
Gruner Veltliner from Austria
Riesling from Australia
---