Easy Salmon Poke Bowl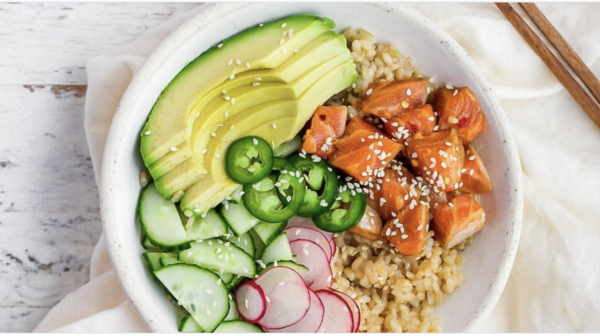 Easy Salmon Poke Bowl
Serves 4
Ingredients:
2 cups cooked brown rice
1 1/2 tablespoons toasted sesame oil, divided
1 lb Wild-Caught salmon fillet, sushi-grade, skinless, diced into cubes
1/4 cup tamari
2 teaspoons rice vinegar
1 English cucumber, sliced
1/2 cup radishes, thinly sliced
1/2 green onions, sliced
1 avocado, sliced
1 jalapeno pepper, thinly sliced (optional)
Directions:
1. Add brown rice to a bowl and drizzle half the sesame oil over top and mix to combine.
2. Meanwhile, in a medium-sized bowl, add the salmon, tamari, rice vinegar, and the remaining sesame oil. Place in the fridge to marinate for at least 10 minutes.
3. Assemble your bowl by adding brown rice to the bottom. Top it with salmon, cucumber, radishes, green onions, avocado, and jalapeno. Enjoy!
Notes:
Leftovers: Refrigerate in an airtight container for up to one day.
More Flavor: Add minced ginger and chili flakes to the salmon while it's marinating.
Additional Toppings: Sesame seeds, cilantro and/or a spicy mayo.
Make it Vegan: Use tofu or tempeh instead of salmon.
No Tamari: Use coconut aminos instead.
{Rachel's Suggested Wine Pairings}
Grüner Veltliner from Austria
Riesling from the Okanagan Valley or Washington state
Dry Tavel Rosé from the Rhone Valley
---