Crispy Prosciutto and Leek Soup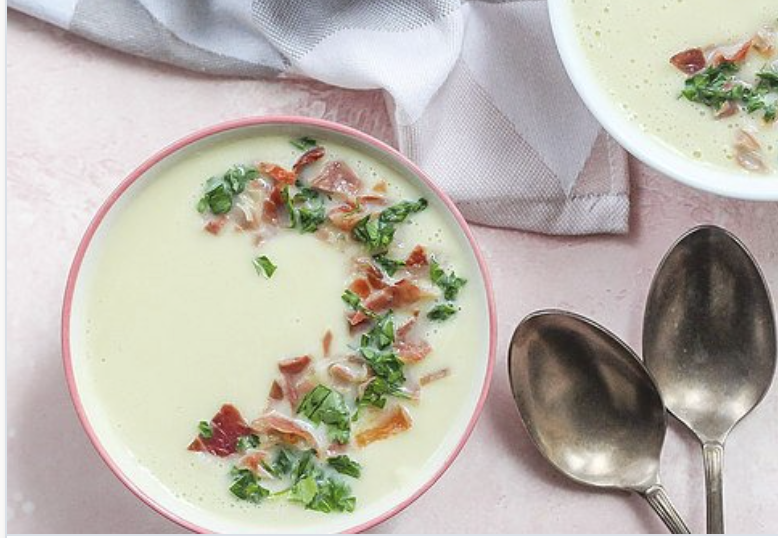 Crispy Prosciutto and Leek Soup
Ingredients:
1/2 teaspoon avocado oil
2 leeks, white and light green parts only; trimmed and roughly chopped
1/2 yellow onion, chopped
1/2 head large cauliflower head, cut into florets
4 cups chicken broth
1/2 teaspoon sea salt
4 ounces prosciutto, sliced or torn into small pieces
1 1/4 cups unsweetened canned coconut milk, full fat
1/4 cup Italian parsley, chopped
Directions:
1. In a large pot or dutch oven, heat the avocado oil over medium heat. Once hot, add the leeks and onion and sauté for 4 to 5 minutes. Add the cauliflower, chicken broth and sea salt. Bring to a boil, then reduce heat and let simmer for 15 to 18 minutes.
2. Meanwhile, heat a large non-stick skillet over medium heat. Add the prosciutto and cook for 3 minutes per side or until crisp. Remove from the pan and set aside.
3. Add the coconut milk to the soup and stir to incorporate. Blend the soup with a stick blender or in a blender.
4. Ladle into bowls and top with crispy prosciutto and parsley. Serve and enjoy!
Recipe Notes:
Leftovers: Refrigerate in an airtight container for up to three days. Freeze for up to three months.
Serving Size One serving is equal to approximately 1.5 cups of soup.
More Flavor: Add black pepper or your favorite herbs and spices to the soup.
No Prosciutto: Omit, or use crispy bacon instead.
Make it Vegan: Use vegetable broth and omit the prosciutto.
---