Zoodle Carbonara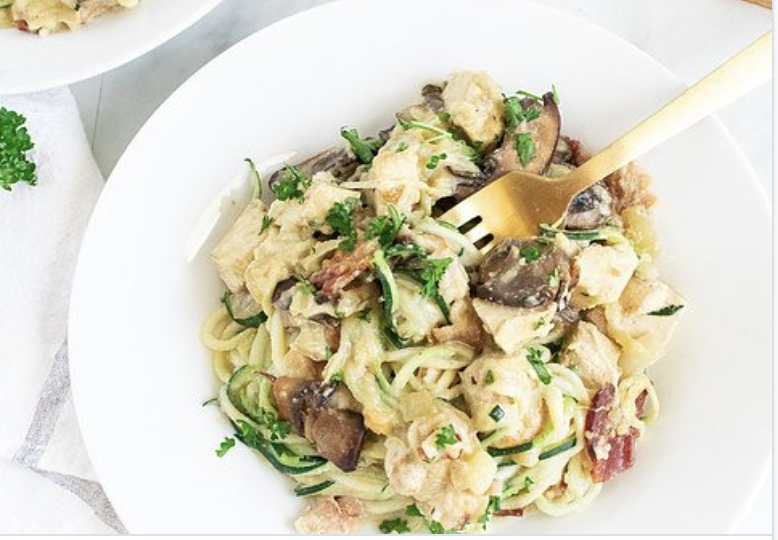 Zoodle Carbonara
Ingredients:
1/4 cup cashews
2 tablespoons extra virgin olive oil, divided
8 ozs chicken breast, cubed
4 slices turkey bacon, cooked and chopped
1/2 white onion, diced
1 cup mushrooms, sliced
2 zucchini, medium, spiralized into noodles
2 tablespoons nutritional yeast
1/4 cup unsweetened almond milk
1 garlic clove, minced
1 tablespoon, arrowroot powder
1 teaspoon Pink Himalayan salt
1 tablespoon Italian parsley, chopped
Directions:
1. Boil enough water to cover the cashews. Pour the water over the cashews and allow them to soak while you prepare the meat.
2. In a pan over medium heat, add half of the oil. Once heated, add the chicken breast and bacon and cook for 7 to 10 minutes or until cooked through. Discard the fat and set the bacon and chicken aside.
3. To the same pan, add the remaining oil, along with the onions and mushrooms. Cook on medium heat for 5 minutes or until soft.
4. While the mushrooms and onions are cooking, prepare the sauce. Drain the cashews and add them to a blender along with the nutritional yeast, almond milk, garlic, arrowroot powder and sea salt. Blend until smooth and creamy.
5. In the same pan as the onions and mushrooms, add the zucchini noodles, chopped chicken and bacon. Pour the sauce into the pan and mix well to combine. Keep everything in the pan until it is warmed through.
6. Divide between bowls and top with fresh parsley. Enjoy!
---